Interview with Karlijn Vogel, Manager Social Media at KLM, the Dutch airline that leads in social media
In his recent book "Antifragile", Nassim Nicholas Taleb describe "antifragility" as the capacity to thrive in the wake of unexpected shocks. Since the time I started following the airline industry I have seen this type of unpredictable events become one of the most powerful drivers for the adoption of social media by the air travel industry.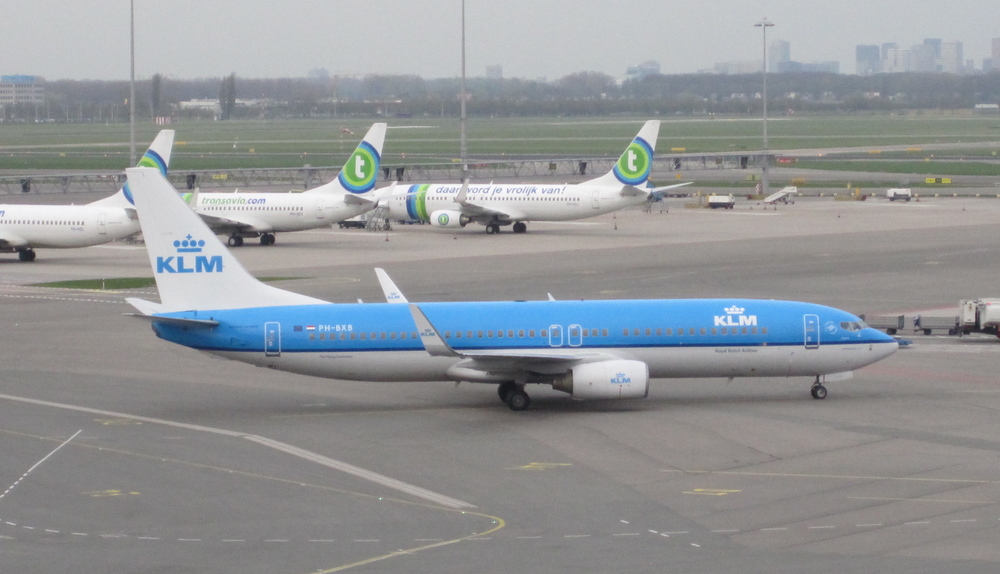 The Icelandic ash cloud crisis that grounded almost all European airlines in 2010 and caused one of the largest flight disruption episodes on record had also some unintended positive consequences for those organizations that took it as an opportunity for improvement.
It was not that travelers were not using social media before, but that, because all the scale of the crisis overwhelmed all traditional communication channels between airlines and their customers, that organizations became aware of the power of social media as a way to reach out to them (a case in point was, for example, Eurocontrol, as her then communications manager Aurélie Valtat explains here).
The most successful case of an airline embracing social media in all its dimensions is, possibly, KLM, the Dutch flag carrier.
A simple look at KLM's multiple social media channels would give you an idea of the success they have achieved in generating a loyal and engaged follower base across all continents: close to 9 million fans spread across all different social networks in which KLM has a presence, including also local channels in many different languages. As an example, KLM's main international Facebook page alone boasting 4 million fans.
And yet, these levels have been reached within the last three years.
I have had the chance to interview Karlijn Vogel, Manager Social Media at KLM, one of the team members that have lead the airline to become a social media powerhouse.
Not surprisingly, it all started during the Icelandic volcanic ash crisis, when KLM's managers found themselves spending nights in front of the computer interacting with stranded customers all over Europe. What started as a makeshift operation quickly turned into a fully dedicated social media department.
And here is one of the key elements that set KLM apart: whereas other airlines have made of social media an annex of marketing, social media with KLM is organized by E-commerce and Corporate Communications, of course working closely with Marketing. The airline defines three fundamental roles/pillars:
Customer service
Brand & Reputation
E-commerce
The first one is self-explanatory, what perhaps makes it a bit unusual is the scope of its social media operation, KLM's social media customer support team employs almost 100 full time staff that are able to answer queries in 10 different languages.
As a personal anecdote, I can say that I was able to test the professionalism of KLM's twitter-based customer support service during another episode of massive flight disruptions (the severe snowstorms of the Winter of 2010) and it passed with good marks, to the point that I wrote an article about it at the time.
In Karlijn Vogel's own words, KLM is aiming to make most of its new outreach initiatives "social by design".
You can see this when it comes to the second function of the social media department: building corporate reputation and brand awareness. It is in this domain that KLM has shown signs of hyperactivity, it is not enough having a great corporate blog and a Facebook page able to delight any aviation enthusiast (go have a look in case you wonder how they got that many fans!), initiatives such as the Facebook Delft tile aircraft, the "Fly2Miami" campaign or the "KLM surprises" initiative have contributed to put KLM's brand in front of millions of prospective customers. On this blog we have also covered some of their campaigns too for example the "Must See Map" and the "Meet and Seat" service.
I find the "Meet and Seat" service particularly interesting, since it fits into the broader air travel social seating trend, where you are assigned a seat companion based on preferences expressed in your social media profile (via Facebook or Twitter) (that, of course, you need to share first with the airline in order to get a match). KLM's Meet and Seat service had a somehow slow start in February 2012, but it has been growing in popularity, particularly since this option was included in the check in process since March this year, which doubled the rate of adoption per day. When writing these lines, over 40,000 people have already shared their profiles.
KLM is also experimenting with social gaming as a way to continue building brand exposure. This is the case of its Aviation Empire game, a social game for iOS and Android that leverages KLM's status as the World's oldest airline in continuous operation.
Aviation Empire is an interesting case of airline social marketing, because it has a considerably large and engage user base (100,000 active players that, on average, spend over 13 minutes per session and more than two sessions a day playing), although most of them are, actually, not flying on KLM (on learning about this, I joked with Karlijn Vogel that KLM might well create a video-game spin-off!). This means that, although, there might not be a direct link between this campaign and actual ticket sales, KLM is building its brand among a large number of prospective young customers. In Ms.Vogel's own words: compare the sort of exposure we are getting to the cost of running advertising campaigns in all the countries where those players are based.
And you might be asking: but does all this social media activity result in more tickets being sold?
Karlijn Vogel replies with a resounding "yes!". In addition of the indirect contribution that social media can make to the performance of an airline, such as the customer service and brand awareness functions we have seen before, KLM also contemplates a strong e-commerce function for its social media channels.
The key here is to be not only passively broadcasting new offers to the public, as many airlines do, but to actively seek the engagement of your prospective customers. Well, to be fair, KLM has also a twitter bot that broadcast offers, but it does not stop here: the Dutch carrier aims to use social media as a sales channel on its own, for example, KLM runs regular promotions where you can choose the destination on offer and then are able to get discounted tickets if sharing the information with your own social network.
It is in this last area where, in my opinion, there is still way to go for the industry. What I am sure, thought, is that whenever new creative ways of booking tickets are devised, KLM is likely to the be at the forefront! Thus, I will keep following KLM's social media initiatives, as there are always interesting things to learn from the market leader!