An Interflug Tupolev at Schiphol airport!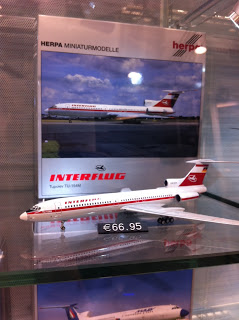 Looks like a museum of European aviation
The flag carrier of the former Eastern Germany is no stranger to this blog and while "retro" is now in fashion in aviation, it is not everyday that you get to see a model airplane of one of its Tupolev TU-154M, and it could be anywhere else but at my favourite shop at Amsterdam Schiphol airport (by the way, a must for any aviation enthusiast traveling through the Dutch airport!)
By the way, did you noticed that below the Interflug model of TU-154M there is a...Malev aircraft model!...coincidence?
Well, the two airlines have in common that they used to be flag carriers of Eastern block countries and that both no longer exist...Malev was modernised after the fall of Berlin Wall and managed to survive as the flag carrier of Hungary until its demise last January. Interflug did not survive the system and the state that created it and went down with the Wall...
For those interested in the history of Interflug, there was also an East German TV series,Treffpunkt Flughafen, produced in the mid-eighties, that was based on the stories of the crew of an Interflug IL-62 aircraft as it toured such iconic spots of Cold War geopolitics as Vietnam, Cuba or Angola...
Interflug and the East German state are now gone for good, but you can still see some fragments of Treffpunkt Flughafen on Youtube: