IAG's Spanish problem, Iberia Express and Vueling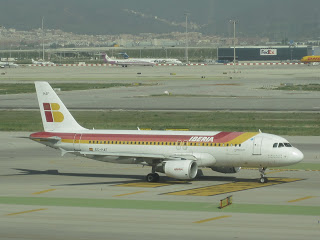 The future does not look bright for Iberia. IAG latest financial results showed that the Spanish flag carrier has become a drag on the the group's financial performance. IAG's CEO, Willie Walsh has already warned that tough measures must be taken...
And what now seems inevitable is that Iberia's short and medium haul network will be progressively taken over by Iberia Express, the vehicle that IAG has chosen to get rid of the existing labour relations framework at Iberia. For Iberia's customers the change to Iberia Express should not be a big change ...for now...because, Iberia Express might have been helpful in taming some structural cost issues within the company (Iberia Express is already profitable), however, it can do little against the huge exogenous pressures currently affecting the Spanish air travel market, like the deep economic crisis and the strong competition from other low cost carriers (among the major European markets, is possibly the one where LCCs enjoy a larger marjet share).
So it is not unlikely that, while keeping some network carrier features, most important of all, feeding Iberia's long-haul network, or what's left of it, Iberia Express, and the rest of the airline, might have to undergo a process of "low-costization".
Curiosly enough Iberia is the major shareholder of another Spanish low cost, and one that is profitable: Vueling. The Barcelona-based carrier is actually on an opposite path: whereas Iberia might end up trading-down, Vueling is trading-up and offering more and more extras to its passengers, in a drive to attract business customers.
Will Vueling and Iberia (Express) end up occupying the same market space?
If this happens, will the two brands be kept? In theory, there is no need to, despite its shareholding Vueling is an independent company and it has its hub at Barcelona, whereas Iberia Express is based at Madrid. However, it is not unthinkable that Vueling becomes more operationally entangled with Oneworld's operations in Spain as it starts to codeshare more and more, take on feeding operations, etc. Will there be a temptation to consolidate Vueling and what's left of Iberia in a big low cost operation? Who would then have the strongest brand? and right structure and "mind-set" to operate as a low cost? an strengthened Vueling or a "downgraded" Iberia?
Of course, the most likely outcome is that nothing of this might actually end up happening, but "what if" scenarios are always entertaining...